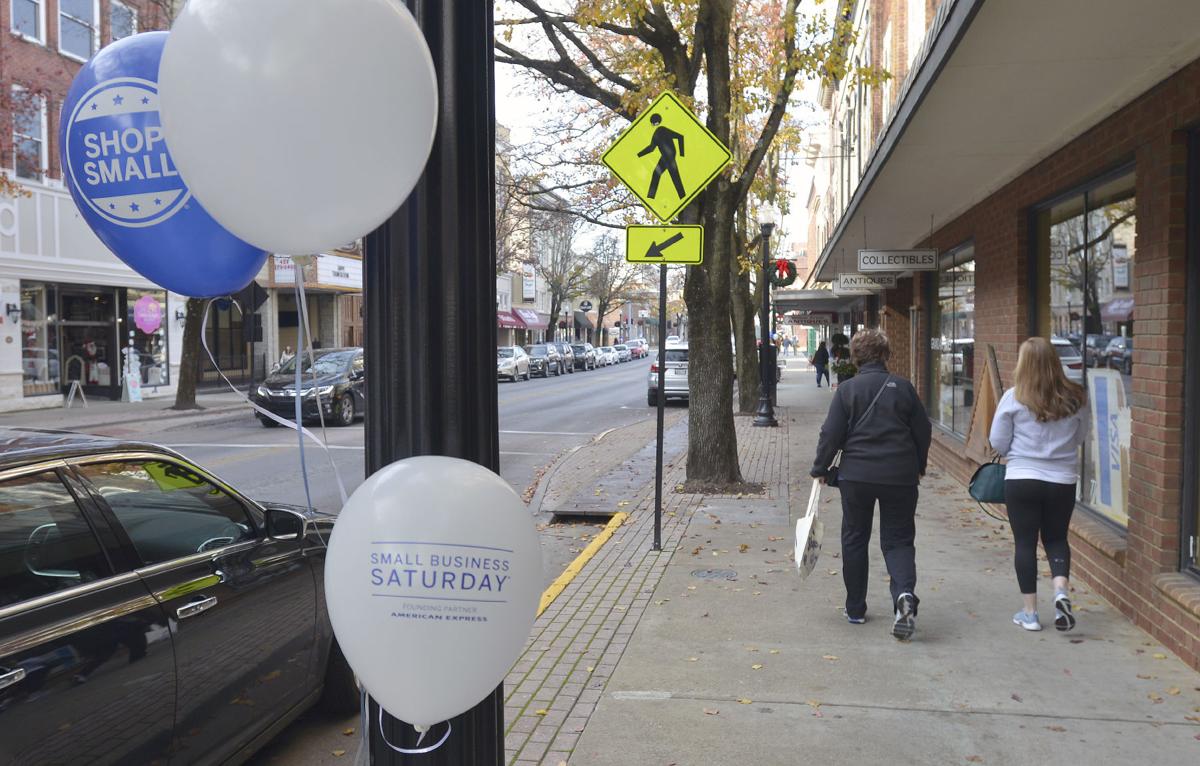 Local Bristol shop owner Hugh Testerman welcomed guests at Blakley-Mitchell on Saturday as residents and out-of-town visitors shopped small.
Testerman, who owns the Blakley-Mitchell men's clothier on State Street in Bristol, Virginia, was busy Saturday, fitting customers for new outfits. Each Saturday after Thanksgiving, shoppers visit small businesses to support their local communities. It's part of Small Business Saturday, which is sponsored by American Express.
"It's been a great day," Testerman said as he assisted one man.
Customers of small businesses expect good personal service, Testerman said, adding that people were purchasing all types of items in the clothing store.
"We're going to have a good year," he said, expecting brisk sales to continue through Christmas.
People began pouring into the store about 11 a.m. Saturday, Testerman said, and they continued shopping through the afternoon.
Down the street at Cranberry Lane, store owner Karen Hester was also busy Saturday as she worked the checkout counter.
"Small Business Saturday is a banner day for us," said Hester, who also owns Hester's Country Store, a new shop in downtown Marion. "It's the busiest day of the entire year."
While Hester said she appreciates everyone's support on Small Business Saturday, every day is important to the business. She noted that 7,600 small businesses have closed nationwide this year.
"These folks coming in and shopping with us today helps us keep our doors open," Hester said. "There's so much competition with Amazon and eBay, and all of those things, we have to constantly stay on the cutting edge. So we pride ourselves with excellent customer service. We've been here for 18 years, and we plan to be here another 18. We're in it for the long haul."
Although Small Business Saturday means Hester and her staff would have a "long, hard day," it was rewarding, she said.
Cranberry Lane, described as a country décor store, features Santa Claus through Christmas.
"It's a tradition," Hester said. "Folks come from all over. I had a little girl that came in a few minutes ago, and she has had her picture with me every year since she was born. It means a lot for the adults and the kids."
Families shopped at many stores in downtown Bristol on Saturday, including Shoozies on State Street.
"It's a fun day," Shoozies owner Peggy Wilson said. "It's a good day. We see a lot of families and out-of-town people. It seems like everybody is in a good mood."
Wilson said her store had a successful Black Friday and Small Business Saturday.
"A lot of people are becoming more aware of what local businesses mean," Wilson said. "I think there's more awareness now than in the past. It is growing. I think if you want to make it pleasant, shopping local is more pleasant."
Wilson added that there are a lot of advantages of shopping local and in downtown Bristol.
"It's a nice experience," she said. "It's not a big-box-type thing. It's interesting. There's different things downtown. There's more one-on-one with the customer. People come and congregate and talk and meet someone they know. It's a friendly social atmosphere."
American Express reports that there are 706,626 small businesses in Virginia and 580,453 small businesses in Tennessee.
Last year, an estimated 112 million consumers reported shopping at small businesses on Small Business Saturday — more than ever before, and a 13 percent increase from 2015, according to a survey released by American Express and the National Federation of Independent Businesses. Consumers spent an estimated $15.4 billion at independent retailers and restaurants.
source:-.heraldcourier