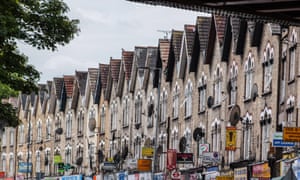 To add to Peter Wilby's excellent article (The councils turning to risky business, 7 March), the idea of public service is being swept away as local authorities seek to fill the huge gap in income created by the Tory government's move to abolish central funding by 2020. Many authorities are trading away from their home turf; but the setting up of partnerships with private companies is being taken to a zenith of profit-taking from public assets by the example of the London borough of Haringey. The Labour-run council's cabinet has voted to transfer £2bn worth of commercial properties, council estates due for demolition and "regeneration", and potentially many more assets belonging to the local authority to the so-called Haringey Development Vehicle. Notionally this is a 50-50 partnership, but the council's preferred bidder, Lendlease, has all the chips in its favour, as it will provide the expert input and determine income streams and the profit and loss account.
The ramifications of wholesale transfer of local authority assets, at current prices, in an unpredictable housing market and financial climate, to profit-seeking multinationals such as Lendlease, with its admitted history of blacklisting and corruption in New York City, and its poor record of providing social housing in Southwark (Report, theguardian.com, 25 June 2015), are national as well as local. This direction of travel must be resisted – as it is in Haringey.
Alternatives exist, including new council-house building, at preferential borrowing rates, using current grants and loans to the public sphere more imaginatively; and decent refurbishment of places where people live and want to continue to do so.
Gordon Peters
London
• Haringey council's plans to enter into a regeneration partnership to bring millions of pounds of investment and thousands of new homes to the borough have attracted a lot of attention. We welcome debate about our approach, but we're concerned that some of the statements being made by those opposed to our plans continue to overlook the facts in favour of stoking unfounded fears among the very residents we're seeking to support. Our borough needs thousands of new homes. Shackled by the impact of the government's ongoing austerity measures and its stringent constraints on borrowing, we have to find a different way to tackle the housing crisis, address inequality and deliver the homes, jobs and opportunities local people have told us they want.
Far from offering a developer carte blanche in our borough, a 50-50 partnership brings the investment we need, while allowing us to share profits and maintain control. And it means that we can put the needs of existing council housing tenants first. And yet, again and again we are being forced to defend alarmist claims of people being made homeless that are nothing short of scaremongering. So let's be clear: we are committed to rehousing existing tenants on the same rent and the same terms. For so-called campaigners to claim otherwise is simply cruel.
In fact, in Northumberland Park we've been working with tenants and leaseholders since 2014, while on the nearby Love Lane Estate residents have been overwhelmingly supportive of regeneration.
Campaigners claiming to speak for Haringey's tenants are too often failing to actually listen to them. Without the investment that Lendlease will bring, our ambitions would fall at the first hurdle. We hope that those who seek to alarm local people will look at the full picture and think again.
Cllr Alan Strickland
Haringey council cabinet member for housing, regeneration and planning
• Join the debate – email [email protected]
• Read more Guardian letters – click here to visit gu.com/letters
["Source-theguardian"]