Stocks in Europe struggled on Monday after Asian shares declined as optimism over a potential U.S.-China trade deal receded. Treasuries climbed, while the pound strengthened ahead of a U.K. cabinet meeting.
Automakers and financial services companies were among the biggest decliners in the Stoxx Europe 600 Index, with futures on the Dow, Nasdaq and S&P 500 falling alongside those in Asia after White House economic adviser Larry Kudlow downplayed the potential for a quick deal with China. Treasury yields handed back some gains made on Friday, when a strong monthly jobs report reinforced the case for the Federal Reserve to keep raising interest rates. The pound rose on news of further progress in Brexit negotiations.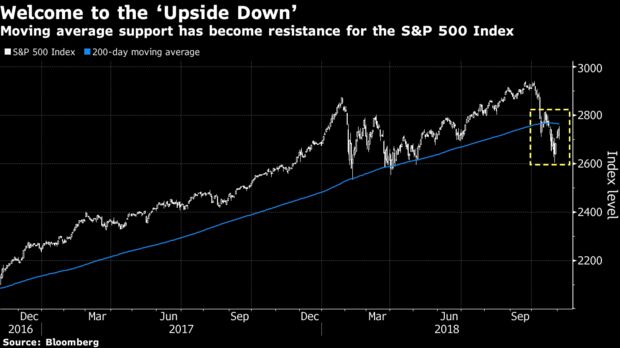 Politics and central banks loom large in a busy week for global markets. U.S. congressional elections, seen as a referendum on the policies of President Donald Trump, take place Tuesday. On the Brexit front, Prime Minister Theresa May is due to discuss the latest proposals with her cabinet the same day. Investors then turn their eyes to the Fed's policy meeting. Though officials are expected to keep the benchmark rate unchanged at their penultimate 2018 meeting Thursday, clues will be sought for moves into 2019.
Elsewhere, the yen barely budged even as Bank of Japan Governor Haruhiko Kuroda hinted Monday that he wants to normalize monetary policy once the central bank gets closer to its price goal. Crude was on track for a sixth day of declines even as sanctions on Iran oil snapped back into place Monday.
Terminal users can read our Markets Live blog.
Here are some key events coming up this week:
U.S. sanctions on Iranian oil flows go back into effect Monday
EU's chief negotiator Michel Barnier delivers a speech on Brexit to the Grandes Conférences Catholiques in Brussels
On Tuesday, U.S. mid-term elections will determine whether Republicans keep control of Congress, and set the stage for Trump's 2020 re-election bid
Reserve Bank of Australia November policy decision Tuesday
Federal Reserve policy makers are expected to leave the main interest rate unchanged Thursday at their penultimate gathering of 2018
Trump plans to meet Russian President Vladimir Putin on the sidelines of Armistice Day celebrations Nov. 11.
And these are the main moves in markets:
Stocks
The Stoxx Europe 600 Index dipped less than 0.05 percent as of 8:03 a.m. London time, the first retreat in more than a week.
Futures on the S&P 500 Index fell 0.3 percent.
The MSCI All-Country World Index declined 0.3 percent, the first retreat in a week.
The MSCI Emerging Market Index sank 1.1 percent, the first retreat in a week and the largest tumble in almost two weeks.
Currencies
The Bloomberg Dollar Spot Index rose 0.1 percent.
The euro declined less than 0.05 percent to $1.1385.
The Japanese yen increased less than 0.05 percent to 113.19 per dollar.
The Turkish lira fell 0.8 percent to 5.4725 per dollar.
South Africa's rand sank 0.6 percent to 14.3869 per dollar.
The MSCI Emerging Markets Currency Index sank 0.3 percent, the biggest dip in almost two weeks.
Bonds
The yield on 10-year Treasuries fell two basis points to 3.20 percent, the biggest drop in more than a week.
Germany's 10-year yield fell one basis point to 0.42 percent, the largest drop in more than a week.
Britain's 10-year yield declined one basis point to 1.486 percent, the biggest drop in more than a week.
The spread of Italy's 10-year bonds over Germany's climbed five basis points to 2.9449 percentage points.
Commodities
The Bloomberg Commodity Index rose 0.4 percent to the highest in a week.
West Texas Intermediate crude declined 0.3 percent to $62.94 a barrel, reaching the lowest in seven months on its sixth straight decline.
LME copper decreased 0.7 percent to $6,239.00 per metric ton.
Gold increased less than 0.05 percent to $1,233.25 an ounce.
["source=TimeOFIndia"]